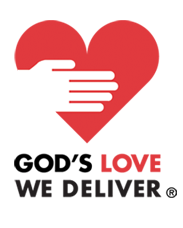 For Christmas 1999, I decided to volunteer in the kitchen at God's Love We Deliver, the New York metro area's leading provider of nutritious, individually-tailored meals to people who are too sick to shop or cook for themselves. 'I wound up serving as a Wednesday night kitchen volunteer for the next eight years. 'Volunteering at GLWD was the first time in my life I ever regularly did something for anyone other than myself. 'It changed me. 'I will continue doing volunteer work for different organizations the rest of my life. 'I made amazing friendships that last up to today. 'I went white water rafting with my fellow Wednesday night crew, even jumped out of a plane once with some of them! 'One of my proudest GLWD memories was how I made it downtown (past the barricades) to the kitchen on September 12, 2001. 'I helped prepares meals that were being delivered to rescue workers recovering survivors from the rubble at ground zero after the World Trade Center attacks. 'It was incredible to be part of team with a higher purpose like that; I can still remember the efficiency and dedication with which we were all working – it felt like we were part of a war effort. 'And I'll never forget when they announced that a live body had been discovered and pulled from the rubble. 'We had helped give the rescue workers the energy they needed to do their work!
I'm very proud to have a tile inscribed'with my name up on the walls of that kitchen. 'I received that honor for raising over $2,500 one year in their signature fundraiser, the Race to Deliver.

My GLWD experience was such a fun one – because of the other people with whom I was volunteering. 'I rarely ever made the deliveries to the clients. 'So, I went looking for another opportunity to volunteer, where I would spend time directly with the people I was helping. 'I really enjoy reading out loud, so Lighthouse International was recommended to me. 'Lighthouse International is dedicated to fighting vision loss through prevention, treatment and empowerment. 'I was a reader from 2000-2008. 'Every other Saturday afternoon, I would read for a few hours to someone who was visually impaired or blind. 'Over the years, I read to a blind lawyer who was volunteering his time to help get battered women out of bad marriages; I helped a blind therapist do his insurance paperwork; I read textbooks and typed term papers for visually impaired students; and I helped transcribe a book for Dr. Richard Smith, a musician, professor at the United Nations International School and one of the world's leading scholars on African music.
This was incredibly rewarding work, both for the one-on-one interaction 'with clients, and also because I felt by aiding these awesome people to do their work, I was helping a great many other people indirectly. 'If there was no one for me to read to one Saturday, I would go into the recording studio and read a book onto tape for a client who had requested this service. 'I also served several times as an usher for the Annual Lighthouse at the Met Concert, helping to escort one of the Lighthouse Vocal Ensemble members to and from the stage. 'I received so much more doing this work than I was required to give.
In 2008 I volunteered for a political campaign for the first time – two campaigns, actually. 'In April I volunteered for Hillary Clinton's Pennsylvania primary bid. 'I did neighborhood canvassing on two separate weekends – one in Northeast Philadelphia, the other in Plymouth Meeting, PA. 'This was not easy work. 'You are really sticking your neck out, and sometimes the people you are trying to persuade will challenge you to defend your position. 'It requires courage. 'But it was also very empowering – I really felt that I was making a difference. 'And I did! 'Hillary may have lost the Democratic nomination, but I helped her win the PA primary! 'She even carried both counties where I knocked on doors, one of which is traditionally Republican.
When Democrats decided Barack Obama was going to be the party's nominee for the general election, I volunteered to help him get elected. 'Again, I canvassed neighborhoods and spoke to voters – this time in Horsham, Lower Gwynedd and Ambler, Pennsylvania on three separate weekends in October. 'Obviously this kind of work is different than my previous volunteer work. 'After all, it's politics, and things can get…contentious. 'However, it was very worthwhile, and I do recommend it. 'It gave me a great sense of purpose while I was doing it. 'My contributions felt essential.
I have not yet continued doing volunteer since I immigrated to Israel.  That's something I need to change in 2011.