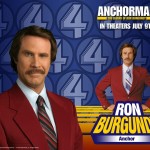 In a parallel universe somewhere, I am Anderson Cooper right now.
Back in high school, I was a head-writer and co-anchor for our weekly high school newscast ("..Today's top story: mid-terms…), which was broadcast over our local cable system. I reconnected with this work suddenly in 2003, when I appeared on the PIX-11 Morning News doing their "Friday Forecaster" segment.  The New York City Marathon was that weekend, and I was running it dressed as Superman. They had me dress in costume and give race-day tips for viewers running in the race.  Doing the segment LIVE, I was struck by how natural I felt in front of the camera – not acting, but being helpful and entertaining to an audience as myself.
I immediately began pursuing work as on-camera talent. I took courses from MediaBistro in TV news writing and reporting and also used my PR contacts to pitch myself as an on-camera guest whenever I was a legitimate expert on a subject, like when I appeared on Montreal's English-language morning news program in 2004.  I made multiple versions of a demo-reel, tracked on-camera job opportunities via local stations' websites and TVjobs.com and sent them to news directors across the U.S.
2005 was the year several LGBT news channels launched or expanded, including Viacom's LOGO and here! TV, and I saw myself as the perfect talk show host for them – the "Gay Kelly Ripa."
Then on my 36th birthday, I was watching a local late newscast. The reporter was covering a fire, and I was critiquing him, imagining how I'd do it differently. And it hit me – just because I'm gifted with the skills to be on-camera talent, doesn't mean I had to do it. Let's be honest – I was talented, but out of the game long enough that I was going to have to work even harder to make this happen.  Taking classes and sending out demos wasn't enough; I needed the dedication to self-produce news stories and literally bang on news directors' doors with the tapes….and I just didn't want it that bad.  I decided it was enough to know that I could do it, and I let the dream go that night.
I thought I would feel failure or disappointment from this decision, but I was surprised to feel….relief. I had been defining success for myself in such a narrow way, and once I decided to let go and move on, some wonderful changes rushed into my life – including a new PR job that reignited my excitement for the field.
The coda? Nine months later, I received a call from the news director of KBMT-TV, the ABC affiliate in Beaumont, Texas. He wanted to fly me out and test me for a weekend reporter/weeknight producer position.  I declined the offer.  A year earlier, I was committed to move to a small market, make a minuscule salary, and spend five years working my way back to a mid-sized market like St. Louis or Denver. But that window had closed. Still, it remains an interest of mine, and I have continued to appear on-camera when opportunities present themselves.