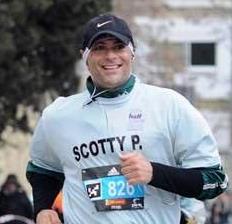 Equal parts brutal and exhilerating – that was my first Jerusalem Marathon experience: March 16, 2012.
This wasn't my first marathon – it was my 13th – but it was my first in these conditions: extreme hills.  Jerusalem is situated in the Judean Mountains, and the race course is rarely flat.  We were constantly going up hills – some ridiculously steep, some torturously long - or coming down them.  If only that were the only challenge…but the weather compounded the degree of difficulty.  The temperature was in the low 40s (5 Celcius) – and windy!  Gusts went as high as 29 mph (46 km/h), and there were times when it just pounded us and didn't let up.  Plus, rain.  Lots of it.  It was intermittent, but there were at least three separate, heavy downpours.
I had trained well for this race.  I've always been a leisurely runner, so my practice runs weren't about speed.  I did a classic two-pronged approach – daily short-runs & bi-weekly long-runs that peaked a few miles shy of marathon-distance one month before the race, then tapering back down the last few weeks to let my body rest.  But I did virtually no hill-training – Tel Aviv is way flat.  There is a steep decline down from a cliffside park to the beach; I did that once for 45-minutes (up-down-up-down), but my dog was with me, and he wasn't a fan.  On a rainy day, I ran 23 miles (37 km) indoors on a treadmill, and I did some steep-ish intervals then.  But that was the extent of it.  Still, after twelve marathons, my body knows the drill.  I felt confident that – hills or not – I got this.
The week of the race, I picked up a mixture of Power Gel™, Gu™ and another brand of gel-type insta-nutrition, plus two power-bar type things.  I also bought a pair of enemas (more on that later) and took my lucky fanny-pack to a tailor to have the zippers repaired.  I was ready.
I took Thursday & Friday off work.  Spent the morning w/ my dog, then got packed up – aforementioned supplies, toiletries, race gear/outfit and post-race change of clothes.  I had booked a hotel room ten minutes away from the course start/finish a few weeks ago – even arranged for a late (2pm) checkout, since checkout was at noon, and that's what time I expected to cross the finish line.  Jerusalem is only a forty minutes drive from Tel Aviv, and you can get a sherut (group taxi) from the central bus station for only a few bucks.  They leave around the clock.  So, I did that.  I had arranged for my bestie Dror to take my dog Petey out once Thursday night and again on Friday morning.  I took care of everything.
The ride to Jerusalem, cabbing to my hotel and checking in – it was all a snap.  Cute hotel room.  I work like a dog – so despite the fact my stay would only be overnight and I'd be running 26.2 miles (42 km) in crap weather – seeing my room put me in a vacation state of mind.  I felt very free being unchained from my desk and the email river.  Even the free grooming samples got me psyched!
My main objectives Thursday were to pick up my race packet at the Marathon Expo before they closed, and to eat my pasta dinner provided for the runners ASAP.  Without getting too in-depth about matters gastrointestinal, you want to eat your carbo-loading dinner early enough to digest and 'evacuate' everything in the morning before you start running.  But I hit a snag – my iPhone was out of juice.  I'm a mobile junkie, and I knew I wouldn't be happy at the Expo unless i could take & share mobile pics over instagram and also check-in to the Expo venue via Foursquare.  So, I waited with agony while my iPhone charged  s l o w l y.   I practiced my vocal therapy exercises, studied the locations of bathrooms and Gatorade™ stations along the course map and reviewed the morning pre-race instructions while I waited.  When my battery hit 40%, I was outtathere.
My freshly charged iPhone quickly guided me to the Expo via the Google Maps app.  Inside, the layout required you walk past all the booths in order to pick up your race packet. The first room had all the standard vendors you'd expect – Adidas sportswear, New Balance running shoes, energy bars & gels, etc. The second room was like a bad craft fair.  I weaved through a crowd perusing framed Torah portions, cosmetics (because runners always think about appearance right before a marathon) and Chia Pets™ and passed a man on an informercial stage wearing a 'Britney-style' headset demonstrating cookwear to get to the registration area without delay.
Uh-oh, the woman I spoke to there couldn't find my name in the system.  I knew I registered correctly, so I waited patiently. It turned out she was looking for me in English, but I had entered my info online in Hebrew – so it was my fancy advancy עברית skills that had gotten me into trouble. No biggie. I got my bib number, tracking chip and official t-shirt, signed up for a cool service where the official photographers could send pics of me directly to my Facebook wall (wow!) and beelined for the pasta dinner entrance.
The dining area was festive.  There was a live band, a nice spread w/ many kinds of pasta, salads and desserts, a large video screen, international flair and lots of energy.  "Hey, Scott!"  I turned and was surprised to find my friend David there.  He ran the full marathon last year and was signed up for the half-marathon this year.  We caught up and talked about the course and our training regimens.  I went back for seconds.  We talked with some Koreans at our table visiting their mom, who lives in Israel now, and later some Germans joined us.  I checked my watch iPhone: 6:45 p.m.  I wanted to have finished eating by 5:30 p.m., but my plan was going pretty well.  Next up, buying some logo-splashed official gear, Gatorade™ and water bottles – then, getting the hell home and into bed for as much rest as I could get.
The merchandise was disappointing.  No windbreakers with a gigantic official logo across the back.  But they did have a water resistant, hooded, multi-layer winter jacket with a small logo on the front.  I wavered between the medium & large – and heard the salesguy tell someone, "See, Mr. Mayor – this is a very popular one.  But that gentleman [me] just took the last large."  Wow, I met the Mayor of Jerusalem!  (And I took the medium, but the Mayor passed on the jacket, anyway.)
I returned to my hotel around 8:00 p.m. and wanted to take care of two things that seem small, but could end up taking a lot of time the morning of the race – pinning my race bib to my shirt and securing the tracking chip to my sneaker.  I got the bib on nice and straight, but had trouble with the tracking chip.  The ING New York City Marathon™ gives you these ribbed plastic ties to do the job, but Jerusalem wanted us to undo our shoelaces and thread them through the chip to secure it.  One of my laces was frayed, and I could not get it back through my shoe's loops no matter how many times and ways I tried to thread it.  I decided to go downstairs and ask reception for a scissors.  They directed me to security.  When one of the security guys saw what I wanted to borrow his scissors for he said, "No, if you cut it you will never get it back through.  You have to burn it."  He took out a lighter and with the other guard's help, they melted the strands of the frayed lace until it had congealed.  I said to them, "This is army stuff, isn't it?"  They answered, "Yeah."
I went back to my room and tried to go to sleep.  That's always hard for me the night before a marathon.  There's just too much excitement going on.  I finally fell asleep around 12:30 a.m., woke up a few times during the night, and then got up with my alarm at 4:00 a.m.
The race started at 7:00 a.m., and there's a lot of prep to do the morning of a race.  First, I gave myself an enema.  If you just reacted like a four-year-old, stop.  Everyone's stomachs behave differently; mine can get very upset with all the tension and anxiety that accompany the start of a marathon.  I want absolutely empty bowels when I'm running a race.  Scrambling for a bathroom in the middle of a marathon when there's none to be found is *not fun* (although you'll probably enjoy these stories from when I ran the Tel Aviv Marathon in 2009 and got an Orthodox guy and posh high-rise dweller to let me use their 'facilities').  After I started that process (yes, it's a process), I went downstairs for my complimentary breakfast.  If you're curious what you're supposed to eat the morning before a marathon, the answer is: what you normally eat.  This is not the time to try anything new; give your body what it expects.  The hotel cafeteria was filled with European marathoners.  I sat with a 46-year-old Israeli father of three from Haifa.  We spoke mainly in Hebrew about our past marathon experiences.  He was a doll.
Back in my hotel room, I continued 'the process.'  Intermittently I also put Band-Aid™ 's across my nipples (to prevent "Runner's Nipple") and Vaseline™ on my inner thighs and armpits to stop them from chafing during the race, too.  I got dressed in all my gear, mixed a bottle of Gatorade™ & water, and headed to the start in Sacher Park.  I was supposed to walk over with the Israeli Breakfast Doll, but I missed him.  I wound up meeting and walking with an elite marathoner from South Africa, who averages seven marathons a year!
I had no bags to check, so I went right to the port-a-potties and resumed 'the process.'  I was in good shape and really relieved about it.
Almost time – better head to the starting line.  Hey, look at these silly characters I passed on the way there!  Props to the Jerusalem Marathon planners – this was something they did well.  There were entertaining performers throughout the course interacting with us – from theme park stuffed animals, to Brazilian carnivale puppets to people on stilts.
"3-2-1-Go!"  And we were off.  There were only 800 of us running the full marathon.  That's double the number of entrants from last year, though – and it's only the race's second year in existence.  Still, they wanted to start us off in groups A & B – but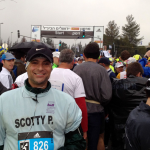 everyone got antsy once Group A took off, and so we all kind of left at the same time.  The first song to come on my playlist was a great one – Michael Bublé's version of "A Foggy Day (in London Town)."  So, of course I started singing it.  I love to sing when I run.  It's actually a good indicator that you're jogging at the right pace (not talking about racing here, just jogging); you should be able to sing or carry on a conversation while jogging.  Anyway, I love to do it, and the breath control required during a jog really helps my vocals.  But – gaa! – my iPhone wasn't secured well enough in my armband case, and it popped out and fell to the street!  Thankfully, no casualties.  I secured it better, and resumed my duet with Michael.
I planned on using the Runkeeper iPhone app during the race.  I wanted audio cues with mile-marker information, since I'm more familiar with them than kilometers.  Also, I wanted a time cue every half-hour, so I could eat another Power Gel™ or Gu™ (once an hour for the first two hours, then every half hour after that).  But around km 4, I decided to check my iPhone battery.  Gasp! 77% already!  I made an emergency decision to discard timing my race, quit the app and put my phone into airplane mode to maximize the battery I had left.  I'm so glad I did this.  It was basically like the iPhone version of the Hanukkah miracle: battery power that was supposed to last only a short time ended up lasting much longer than expected (can't reveal how long, or I'd be giving away the ending of this post!).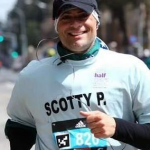 From the very beginning of the race, I had the most beaming, happy feeling.  It predominated the whole course, and I never 'turned' on the crowd.  Mid-pack marathoners know what I'm talking about: you start the race loving the crowd for the energy they're giving you, and you give it right back to them – high-fiving the kids, pumping your arm in response to spectators' cheers, pouring out smiles and thumbs up.  Sometime later, after you've hit 'the wall,' that flips and you can begin to hate them.  "Come on, don't give up – you look great!"  "You can do it – only five more miles!"  "Almost there!"  Basically, you want to tell them to take their well-meaning cheers and shove them right up their asses.  What do they know about the pain your feeling?
It didn't happen to me this time.  I had winks, grins and thumbs up for everyone on the sidelines, the whole time.  This feeling of constant sharing of love is really special; I wish you all could experience it.  It feels pure, and it encourages you – beyond the context of the race, I mean; it encourages you about people in general.  It's a blessing.
I enjoyed the fuck out of my playlist – a mix of five and four-star rated songs from my iTunes library – and I sang out loud a lot.  I'm especially happy about this, because I'm in vocal therapy right now, rehabilitating my voice after an injury about four years ago.  I used to sing in the New York City Gay Men's Chorus, and I've missed singing so much – not just publicly, but missing the joy the physical act of doing it gives me.  The past few years, every time I would try and sing, I'd quickly become so frustrated by my inability to reach notes and carry a melody – it's been very upsetting.  So, to be able to have these notes back and express the joy I was feeling during the race through song – it was just such a gift.  Plus, a little attention never hurt anybody.  :)  And spectators really enjoyed it, too.  I think because it's pretty atypical, for someone in the middle of such a grueling act to freely spare his energy to something "non-essential" like singing.  Others just dig the novelty of it.  The people who really get it are the ones who recognize how happy I'm feeling – and that stirs a really happy feeling within them, too.  The happiness and love I can feel while running a marathon is really quite extraordinary.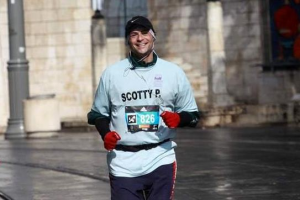 Most of the 800 marathon entrants were elite runners – people running three and a half hour marathons and under.  After these waves of runners passed by, the spectators all cleared out.  So, when 'mid-pack' runners like me got to the same points on the course, almost no one was lined up against the barricades anymore, rooting for us.  It was a very different experience from running the ING New York City Marathon, when more than 1,000,000 spectators line the course of the race, and there are thousands of mid-pack and slower runners.  But that's not to say there weren't still people watching and cheering us on.  There was the normal city-life…people running errands on the sidewalks or sitting in pubs drinking or out on bicycles for recreation.  When we passed through the city-portions of the course, they were there – and they were fantastic.  Seriously – Ultra-Orthodox, Schmultra-Schmorthodox, Jerusalemites seemed more outgoing and friendlier than a lot of Tel Avivians.
Around km 8, a  young security guard or policeman decided to run with me.  He stayed with me for a whole kilometer, and we had a conversation in Hebrew.  He was very generous and enthusiastic.  I remember, a song I especially love came up in my playlist (Matthew Sweet's "Girlfriend"), and I kinda wanted to say to the guy, "Alright, dude – thanks and everything, but I really love this song, and I'd rather be singing it and feeling like I'm flying than continuing to talk with you right now," but fortunately, I didn't.  I recognized how special and uncommon this man's act was.  It was going to become a lasting memory for me, and I was better off not getting in the way of that.
It had been drizzling, but now it started raining – hard.  And – was that hail?!?  (Yes, it was.)  I really didn't mind this downpour very much.  I had a baseball cap on, which gave me some protection, and I had a water resistant windbreaker underneath my oversized shirt.
Then I saw my friend, the beautimous Andy Shipway and his sons at km 9, right where he said they would be.  My friend Tanya, Andy's wife, had stepped away a moment, but I saw her when I passed the Jacobs-Shipways again at km 39.  Personal boosts from your friends are always a nice race turbocharge.
I left the narrow city streets and continued onto a more expansive, open highway.  This part of the course was a big double-back: runners were going out to a far point, then turning around and coming back the other direction.  Seeing the earlier, faster runners coming back while you're heading out is sort of like a preview of what you can expect later on in the race.  This highway stretch was an enormous, gradual hill.  I was breezing down it, while my faster brethren were ascending.  I'd be putting my feet in their shoes soon enough.
During this stretch, I also experienced an extended LSD flashback.  It was sort of like the 'fireworks' you can make yourself see behind your closed eyes when you rub them, but I was seeing some raised, lightly-rainbowed, pulsing circles of light in the puddles left behind by the downpour.  I was a little on guard that this phenomenon could be a warning that I was going to pass out or faint next, but really, as long as that didn't happen (it didn't) the effect was damned nice, and I just allowed myself to enjoy it.  It lasted a good twenty minutes, I think.
The hill reached it's nadir, and gravity began holding me back as I began the slow, massive climb up Mount Scopus.  The course turned off the highway and through a neighborhood street that opened up to a mountaintop plateau with a sick view – I saw hundreds of white homes built into the sides of the Judean mountains.  The sky was a mix of rain clouds and lighter clouds with hints of  light peeping through, and it produced splendid contrast across the whole vista.  I resisted the urge to whip out the iPhone's camera (and waste battery power and slow myself down) to take a shot.  The would open Pandora's box and cripple my race.  Too many beautiful views everywhere along the course.
We did a loop around this mountain plateau, encircling The Hebrew University of Jerusalem and also an army base.  It was tranquil and meditative.  I was rocking out to The Police's "When the World is Running Down (You Make the Best of What's Still Around)," and there was a 50-something woman who'd been in front of me since the sloping highway hill.  She was slowing down, and I was on the cusp of passing her….but my singing gave her the drive to step it up and zoom ahead again – and not in a good way (I think she couldn't deal with me).
At the halfway point of our Mount Scopus loop, there was a group of spectators.  I saw a large Palestinian flag blowing in the wind.  These weren't spectators, they were protesters.  I saw signs that said "Free Palestine" in English and also some signs in Hebrew.  I pretended I didn't understand their intentions, and I just smiled and waved to them, and repeated "todah" (thank you).  I heard one of the men say, "Down with Israel.  Down with America."  Like the most recent taste on the tongue, these images and the feelings of anger and provocation the protesters directed at me lingered for a few kilometers.  I wondered if they'd dominate my mind the rest of the marathon, but they didn't.  The next moment arrived, and then the next after that, and my ride continued.
As I ended the Mt. Scopus loop, one of my fellow 'slowbies' – an older guy I had engaged on our approach to the plateau as I passed – came running the opposite direction.  "Where's the red mat?" he asked.  "What are you talking about?" I replied.  "The red mat, with the senor that reads our tracking chips," he answered.  "Oh, that.  It's straight ahead (I turned and pointed behind me), just beyond that curve."  He chased it.
Then I was back on the massive, gradual hill – first gliding down it, then pushing back against 10,000,000,000 G forces as I climbed back up the other side.  Fortunately (NOT!) raging headwinds joined gravity in reducing my pace to a snail's as I crawled up the big hill.  I almost lost my hat a few times.
You see in the pics I've got "Scotty P" across my shirt.  That's from the first ever New York City Half-Marathon in 2006.  It did its job during this race, and I got a few, Go, Scotty!"s from people who noticed it.  But at this point in the race came my favorite one – one of the race performers on stilts with an electric megaphone didn't leave the "P" off and give me the full "C'mon Scotty P!"  I hadn't noticed him, and it was him calling my name that got my attention.  Loved it.
And….thennnn I met 'Brazil.'  You can see him behind me in this photo.  He was this guy, from Brazil, carrying an electronic, rubber chicken and yelling loud, crazy sounds.  He sounded like a drunk, belligerent troublemaker…until you looked at him, and you could see he was just doing his thing – the way I had my singing. This was how he connected with the crowd, and passed the love and energy back and forth.  But, egad, it was just so annoying to me!  I really wanted to tell him to just fuckin' pass me already, so I wouldn't have to listen to him anymore.  And he did a few times…but then he'd pause at a water station, or slow down again, or – for whatever reason, I could not shake this guy for miles.  But you can probably see the same lesson here as me: this was my experience with the 50-something woman who didn't dig my Police karaoke being reflected back at me.  You know the old saying: One man's Police karaoke is another man's belligerent rubber chicken antics.  Zaaaaakly.
Actually, there were three of us: Brazil, me (who they called "New York") and Ireland – a lovely 40-ish woman from Ireland.  We all traded positions with one another and finished around the same time.  For a decent stretch, she walked with Brazil Guy (they were ahead of me, and I was running – but I still was barely gaining on them) – and I was thinking: How can you stand this guy?!  But it kept him quiet, so I didn't complain.
Then I lost them (or they lost me) for a while, and I was on a long, straight stretch of abandoned railroad track (?) restored and covered in wood planks like a low, narrow boardwalk.  Prince's "Pussy Control" came over my headphones, and I just went for it.  [lyric:] "Good morning, Ladies & Gentlemen.  Boys and motherfuckin' girls…," and then into the falsetto chorus: "Ahhhhhh…., pussy controllllll – ohhhhhh!"  Man!  The rebellion of singing those lyrics in holy, Ultra-Orthodox Jerusalem was positively delicious.  I felt mischievous but not heretic – my God thought it was just as cool as I did.
I noticed a lot of Jerusalemites with dogs.  It became a good luck sign for me every time I saw another one.  I got up to about thirty of them.
Onto another straight double-back – up a gradual, vast hill.  Some random guy is standing in the middle of the road, cheering me on.  Man, he's really digging me.  Ha!  It's my friend Joel !!  Awesome-awesome-awesome.  He gives me some words of encouragement and tells me he'll be waiting for me on the other side of the road as I come back - "right by that bus stop."  Yay.
Up at the top of the hill at the turn-around point, there it is…glimmering like gold – a port-a-potty.  My stomach had been amazing this entire race, but around the Scopus period and shortly afterward I felt some foreshadowing going on.  I thought to myself: Heed this warning.  Next port-a-potty is yours, Scotty.  Only, there was none.  Jerusalem, get your act together, man.  More port-a-potties on the course next time, 'mkay?  Anyway, it turned out to be a false alarm.  Erm, just some wind, and I'm not talking bout the weather.  But I kind of have bowels that are, uh, smart, as in sentient.  The port-a-potty was a little too Pavlovian, and I had to pay it a quick visit – really just a verse & chorus of whatever song was on.  (Don't worry, Joel – there was a real sink outside it, and also I put my gloves back on after that.  Our high-five was on the level.)
I have to give myself mad props about something important: how I did an unparalleled job (compared to myself) of keeping my head with my feet during the race.  See, distance and time play tricks on you during a marathon.  In the beginning, you blink and you're already at the 1 km mark.  Already? you think.  This is going to be a piece of cake if they just keep coming like this.  But they don't.  The same 1 km distance at the end of the race can be like that dolly-zoom cinematic trick as JoBeth Williams begins to run down the family's upstairs hallway and bust down the door to Carol Anne's bedroom to rescue her in the movie Poltergeist - it                                 s   t   r   e   t   c   h   e   s     out like taffy.  Trying to mentally jump ahead to the next km marker or landmark or turn or milestone can provoke this phenomenon and make it worse.  And during this race, I just made a decision not to do it.  I thought instead: if I just don't pay attention to the km markers, then I'll accumulate distance without realizing it and the race progression will just 'sneak up on me' - and that's exactly what happened!  Yippy.
At one point, with about 6-7 km remaining, an enormous feeling of gratitude swelled within me.  I thought of my first marathon in New York City, 1996 at 26-years-old…now, here I am at 42-years-old still running them.  Only this one's in Jerusalem, and I live in Israel now.  I'm slower than I used to be, but so what.  And then an even more powerful thought: and everything up til now has just been your first act, Scott.  What's coming now is some next-level shit - husband, kid, family.  Then, like that movie 127 Hours, when James Franco has a premonition of his unborn son as a survival tool – that he must stay alive or the boy will never be born and they'll never meet, I imagined every footstep I took was bringing me closer to my unborn son.  It doesn't matter if it was endorphins or creativity or what – it worked.  Not only did it help make running easier, it made it so FunTheraputicHealingHoly.  You try it – imagine every step you take is literally bringing someone you want to know in the future closer to you.  That shit's powerful, man.
There go the Jacobs-Shipways again, this time with Tanya.  Andy said, "The course is all downhill from here on, Scott."…and, then me and Ireland turned the corner, and up another hill.  :-/  But Andy was just a little off.  Soon, I was going downhill, leaving Ireland behind and happily singing "The Things We Do For Love."  And, suddenly – best surprise ever – there's Andy and his boys again two km later at the 41 mark.  But don't take my word for it – watch it yourself:
The final km was a delightful, narrow path tucked away inside Sacher Park.  What was nice about it was the stream of finishers walking the opposite direction.  It was like a built-in, encouraging welcome-wagon from the Finish Line.  I gave a lot of high-fives that were joyfully returned to me.  One thing that was confusing was, when I arrived by taxi the day prior, I saw the Finish Line, which got me very excited.  But it turned out to be a Finish Line, not the Finish Line.  (It was either for the half-marathon or 10K race, but not us.)  So, I kept thinking I still had to cover a certain distance to get to the spot I was picturing….and then I turned a corner, and there was our Finish – beautiful and straight ahead, not very far away.  I picked up steam.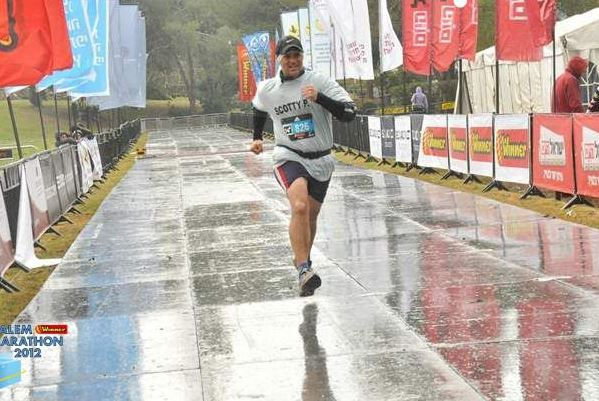 Steps away from the Finish Line, I saw the clock – and I had a bunch of thoughts in rapid succession:
5:49:54?  Damn, that's like :45 minutes slower than the last marathon I did in 2009!

Wait, though – I'm going to beat six hours!

Wait even more – if I hurry, I can beat 5:50:00, because the clock's about to change another minute!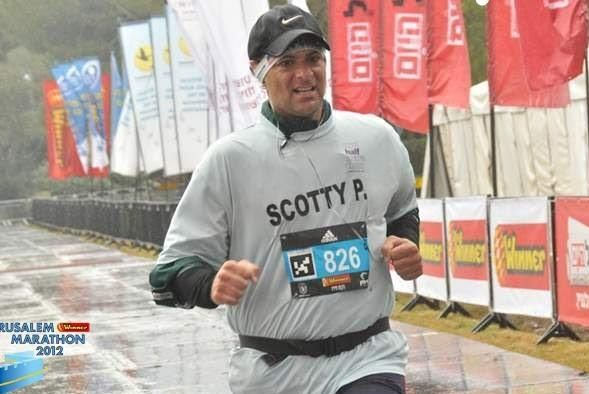 And, so I burst forth into another gear – and crossed the finish line in 5:49:56, while listening to Madonna's "Beautiful Stranger."
Now if the marathon I just described to you was wondrous and incomparable, the very next step launched me into the Worst Post-Marathon Ever.  Literally, my immediate step taken after the Finish Line was into a giant mud pit.  I'm not talking about saturated grass with muddy water.  This was full-blown, inches-deep, everywhere-you-looked mud that could have been setup by central casting for a Girls Gone Wild video shoot.  I got a medal placed around my neck and followed the herd into a tent off to the left.  We had to remove our tracking chips or get charged for them.  In New York, a seated volunteer leans over and clips off the plastic cords holding your chip in place and that's it.  In Jerusalem, you have to bend down or pick your muddy foot up onto a table and un-thread your shoelace through about half the holes in order to free the chip.  Fuck if I'm re-threading that whole thing back up, so I skip a few rows and just thread and bow the top set of sneaker holes.
I see finishers in mylar sheets – gold mylar sheets.  Ooh, I've never had a gold one before, I think to myself.  Want one.  I ask a few people where they are, and they tell me, "There are no more."  But I don't wanna hear that, so I go back out into the (pouring again) rainy mud pit and back over to the Finish Line.  "Can I have a mylar blanket?" I ask the tween volunteer.  "A what?" she asks me back.  "One of those," I say – pointing to one of the bastards who's not me and who got one.  "No more," she tells me.  *seeth*  You know, if the race course is open for seven hours, the last finishers should have the same experience as the first finishers.  Clearly, this race's organization – while dynamite in areas – has a ways to go in others.
"Where's the medical tent?" I ask some people.  I have a chronic shin condition called (borderline) compartment syndrome.  I need to ice my shins down after every time I run.  "They all went home," people respond.  *burn* "But there's an ambulance.  Ask them for help."  Knock, knock.  The driver, a young woman, opens the door.  "I need an two ice packs, please."  She confers quickly with the other person in the vehicle, and tells me, "Oh, sorry, we don't have any ice."  An ambulance without ice – welcome to Israel!
I take the water bottle I was handed and squeeze it all over the sides of my sneakers to wash the mud layer off.  Now my socks are drenched, too, but at least my shoes are cleaner.  Then, I have to walk up a billion steps and back the few blocks to my hotel.  It's pouring and windy and cold.  Easily, worst post-marathon ever.
But I don't let it really get me down.  Because, c'mon – that experience I just described to you all was unforgettable.  I make it to my hotel with a half-hour to spare before the late checkout I asked for in advance arrives.  "If I'm a few minutes late, will you charge me?"  "Of course," responds the cute reception guy, Gabriel.  "$150."  *grrr*
I blitz through a shower, get dressed, groomed and packed up, and make it back down to the desk with nine minutes to spare.  Gabriel makes amends by getting me bagged ice for my shins.  I do my preventative medical care and charge my phone while enjoying a latté.
I have a cab called.  The driver has a phone charger plugged into his lighter socket.  He lets me squeeze out some more battery juice while he takes me to the departure spot for the shared taxi back to Tel Aviv.  On the sherut, I listen to music, but otherwise ignore my phone – preserving my battery and avoiding car-sickness.  I continue my marathon playlist, and Madge finishes "Beautiful Stranger."  Do you know, there were just three songs left on my playlist?  I timed it almost perfectly!  (I had another one made up of just 'closers' – more inspirational, lyrical songs [e.g. U2 power ballads], because sometimes the poppier stuff that's necessary for the bulk of the race turns on you and becomes oppressive if you can't match the beat's energy.  But I didn't use it, because I was afraid changing playlists would waste precious battery juice.  I finished with just 12% to spare.)
I get confused as we pull exit the expressway into Tel Aviv, thinking we're in the northern part of the city where I live, when we're really in the southern part.  I'm anxious to get home, because although my friend Dror let my dog Petey out on Thursday night and again on Friday morning – it's still been a long time for him, and I don't like him being alone so long.  I end up having to walk a few long blocks to the central bus station, where the damn taxi would have dropped me off if I stayed on.  Plus, I lost sight of the gay-seeming, techy nerd in the sherut I was sure was also going to my neighborhood.  Meh, no bother.
I get home, and Petey smothers me in kisses.  We go out for a walk.  I get dinner.  I take a nap on my Le Corbusier lounge w/ Petey across my legs.  I wake up and move to the bed.  Sleep a few hours.  Dror wakes me up with an SMS and we go for a walk with our dogs in the park.
I can't find any wonderful pics on my Facebook profile like I was promised.  I complain on the Facebook walls, in the Twitter feeds and via email to all the sponsors involved.  After my nap, I'm answered via email.  Rep explains nothing failed, they are just backed up.  I check my wall again, and they're up – and they're great!  I check email from iPhone and am happy to see my team member who I had covering for me did a wonderful job, and I can feel grateful for and proud of her.
So, there you have it, folks. My 2012 Jerusalem Marathon was a stupendous joy, as well as very challenging.  It was not really brutal, though it could have been.  I had winning attitude.  I'm so lucky.  Thank you, God !
Writing this blog post took my sixteen, mostly-uninterrupted hours, and I stayed up through the night to finish it before the workweek started.  It was its own marathon.  I hope it has a lifetime online helping people considering their first marathon, or maybe their first Jerusalem Marathon.  If you liked it, please share it with someone.  Thank you. – Scotty P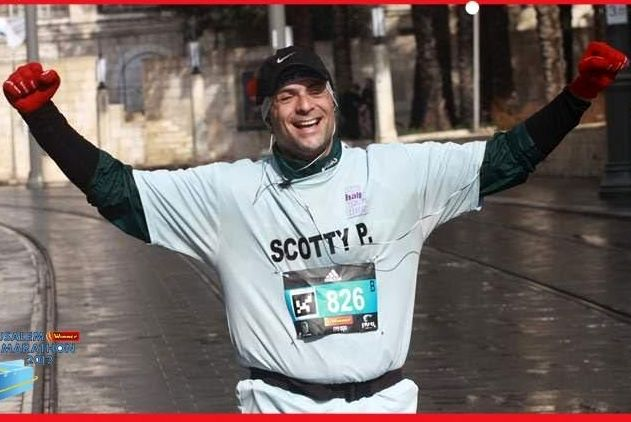 Tags
:
Jerusalem
,
marathon
,
running