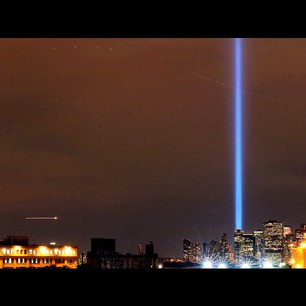 September 11 was something that happened a long time ago.   I never think about it – although I do look reflexively for the Twin Towers whenever I'm crossing West Broadway on Spring Street [the view there was just so – Pow! - dead-on, centered]…and I still crane my neck to look for them downtown when I come out of the Holland Tunnel into New Jersey.   Instead, I'll lock onto the Time Warner Center in today's skyline, and its identical towers provide something I guess, but it's….ersatz.  Someone from the Times wrote not too long after the attack that the Twin Towers were like our parents, standing above us, guarding…looking out for us.  Their monstrous presence from Brooklyn Heights was both completely awesome and wholly comforting.
As the Times began publishing reams of "9/11 Decade" stories last weekend and Twitter droned on about remembrance specials, I still had no interest.  I remember it just fine, thanks.
Then, at 8:30 a.m. EDT on September 11, 2011, "8:46″ flashed into my consciousness.  Twitter was approaching climax, and I was gripped by @JeffJarvis' real-time retelling of his 9/11 experience.  I loaded CNN.com and the 9/11 Memorial ceremony live stream – and that's when the roller coaster's front car safety bar slammed down across my office chair and locked me in place.  Like it or not, I was back on the ride, climbing the first hill.  Emotion, memories and "if only" thoughts seized and throttled my brain the rest of the day…
---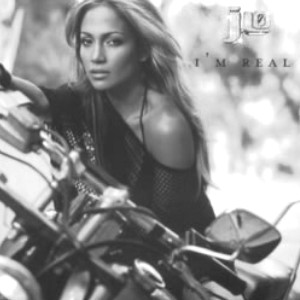 I had a rigid morning routine, and it called for a precise apartment departure time of 8:45 a.m.  I don't know how on time I was September 11, 2001, but it's quite possible I stepped out of my Sunnyside, Queens walk-up at the exact moment the North Tower was struck.  Half a block later, as I crossed the intersection of 41st Street, Greenpoint Avenue and 48th Avenue, Z-100 faded out Jennifer Lopez's "I'm Real," to announce that a plane had struck the World Trade Center.  The news reader was female, I'm pretty sure she said it was a small prop-plane, and I think there was an audio soundbite of a man describing what he saw.  The cut-in was short, and the station returned to music, though I can't remember if JLo came back on or they went to a new song.  I remember thinking – That was weird.  Z-100 is pop radio.  They don't cut in for news – ever.
I don't remember waiting long for a Manhattan-bound 7 train at 40th Street/Lowry station.  The 7 is above ground in Queens, and thinking of the news I just heard, I fixed my gaze immediately on the Twin Towers.  I remember thinking – Damn, that's a lot of smoke!  For just a prop plane?  It must have hit the room where they keep flares or really combustible insulation or something, because that is a shit ton of smoke! I wanted to turn around and get everybody's attention and say Look at that!  Look at that, everybody!  Look the fuck at that – look at all the shit ton of smoke coming out of the World Trade Center right now!  Z-100 said a prop plane hit it a little while ago. But of course I didn't.  Queens may not be Park Avenue or Williamsburg, but that car was full of seasoned New Yorkers, making the most of their morning commute 'me time.'  People were busy reading the paper and eating breakfast sandwiches, or they couldn't hear me because of headphones.  I knew enough not to be the lunatic telling anyone what to do on the morning train to work.
I don't remember getting a better look from Queensboro Plaza, where I usually got off the 7 to transfer to the N train.  Probably the N was there waiting for us, and I ran across the platform to hop on it before it left.  The station is above ground, but directly underneath the Queensboro Bridge.  I remember straining my neck to keep an unobstructed view of the burning North Tower as the N left the station and passed under the bridge's supporting beams and we headed under the East River for Manhattan.  When I lost my view completely, I switched my Walkman radio to AM and dialed in a news station – either 1010 WINS or WABC, I forget - to see if they were covering it.
They were.  What happened next was surreal.  About fifteen seconds after I joined the radio coverage, the reporter interrupted himself, exclaiming – Oh my God, a second plane just crashed into the South Tower!  The World Trade Center is under attack!!  WE ARE UNDER ATTACK !!! Immediately after he delivered that bizarre cry with near hysteria, the reception went out.  We were under the river.
Now, think about this.  I didn't know commercial airliners could be used as missiles – no one did yet.  9/11 was a first-of-its-kind terror attack.  I hear a newscaster holler a panicked, fatalistic alarm out of 'War of the Worlds,' and then I'm alone with that information, because we are are on a train – in a tunnel – underwater.  Only, I'm not alone – because I'm totally surrounded by people in a crowded subway car —– but I am alone, because I'm the only one on board who heard this apocalyptic outcry – WE ARE UNDER ATTACK !!! - delivered by a legitimate newscaster.  It sounds naive now, but I pictured World War II kamikaze planes swarming over Manhattan and diving into buildings.  An eternity – three minutes – later, we arrived at Lexington/59th Street station on the East Side of Manhattan.  I booked up those flights of stairs like I was deep under the ocean with no oxygen left, heading for the surface like my life depended on it.  Because I thought it did.  I literally thought bombs were falling all over the city, and I feared the subway exits would be blocked by rubble, and I'd be trapped underground with too many people and not enough air.
I know there are 9/11 stories way more horrific than mine – people trapped under real destruction, clambering endless stairwells before collapse, witnessing the jumpers, outrunning the black cloud of Tower dust and worse.  But I've always felt this part of my story was just so absurdly frightening - the way I was completely alone with terror amid the crowd – that it's worth sharing.
---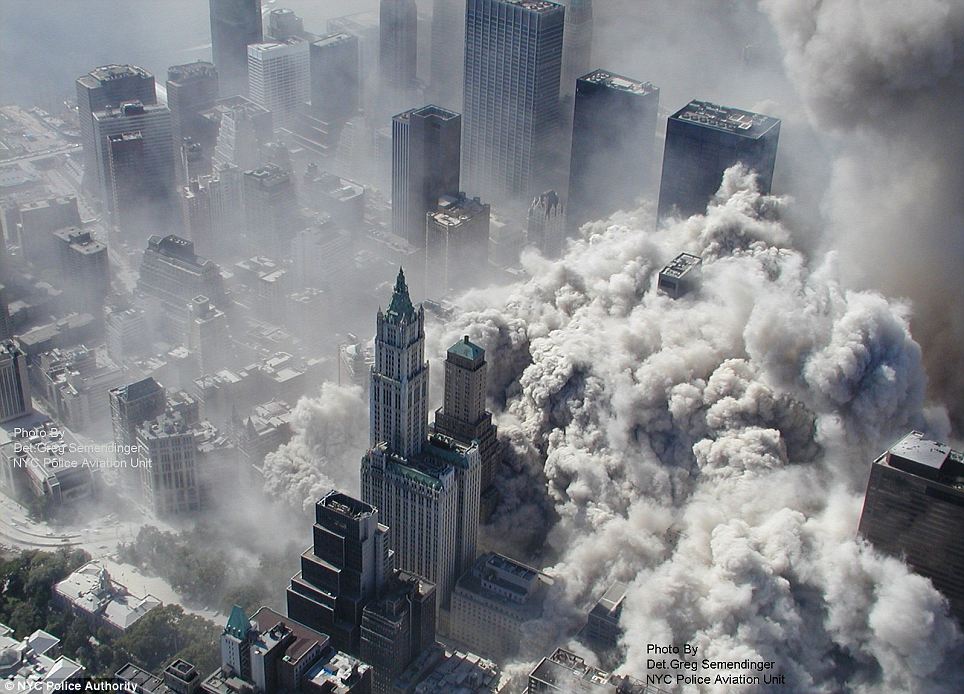 Once I was inside my office on 59th Street and 2nd Avenue, I gathered with coworkers in my boss David's office.  We watched the rest of the 102-minute attack as a group.  When the South Tower fell, I didn't understand what happened.  David did.  He said something like Well, that's one building that's gone forever.
I went back to my desk and used the land line to call my mom and let her know I was OK.  Cell service was unreliable.  I probably called my dad and brother, too.  I remembered my friend Tom worked in the World Trade Center, and I became obsessed with reaching him.  I got through to our friend Sheila, who told me she spoke to Tom, and he was OK.  He had been late to work that morning, because he forgot his lunch and went back for it.  By the time he was on his way (from the Upper West Side), the attack had already started.  His train service became suspended, and he couldn't even make it all the way downtown.
Right after that, we had to evacuate our building.  Even though we were in Midtown, they were making us evacuate, because the Egyptian Consulate was one floor below us.  Al-Qaeda hadn't been blamed yet, and I guess they thought the Consulate could become a reactionary target.
I'm not sure if subway service had stopped, and I didn't want to walk all the way back to my place in Queens — or if I was just too afraid to be alone in my apartment, but I wound up walking with a group of co-workers to my boss David's place on West 67th Street.  Outside, it was as if all the avenue sidewalks had invisible signs above them saying 'North.'  It wasn't exactly a zombie trek vibe – most people hadn't been that far downtown, weren't covered in Tower dust, and still looked normal.  But it was odd – sort of like when a concert or ballgame empties out and everyone converges in one direction, heading for the exits or parking lot, except that it was virtually everyone, everywhere, heading north – determined, slowly and quiet.
The walk through Central Park was strange.  It was gorgeous out, and the park was crowded – which would have seemed normal.  Except the recreation feel was completely sucked out, and replaced with a mix of PTSD, excitement and sleepwalking.  We passed a large group of people sitting in bleachers listening to a radio newscast, and it made me think again of World War II and 'the homefront' -  when events were so big that strangers naturally gathered in public for updates.  On 67th Street, I alternated between watching TV in David's apartment and going upstairs to check if Tom had returned home yet.  Breaking details were conflicting – at one point I thought some unaccounted planes were still up in the air, and there could be more attacks.  Tom came back, and it was a major relief to hug him.  We hung out the rest of the afternoon.  Outside his window, we could see a mass of dark and ugly air hovering over downtown.
---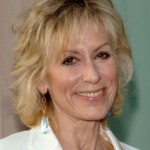 Having celebrated one year of sobriety a week earlier, I knew I needed to get to an AA meeting and talk about my feelings.  On my way, I stopped into a deli to get a sandwich, and it was creepy to see the shelves empty and the place deserted.  Almost deserted – there was a woman at the counter receiving her food.  It was "Who's The Boss?" actress Judith Light.  I had always loved her from "One Life To Live" – she has a very warm and compassionate essence that permeates her roles.  It was just she and I and the clerk in the empty deli, and I felt a need to connect.
I said to Judith, This might seem like a really weird time to tell you this, but I've always admired your work. She replied, It's the perfect time to tell me that. (What a Class Act!)  We talked about the unreality of the day, and then I candidly told her, I'm going to an AA meeting now.  She deadpanned, Talk about 'one day at a time.' It was a short but honest and private moment, and it made an everlasting impact on me.  Years later I was at an event with her at the Sundance Film Festival.  I recounted this story to her, and she remembered it, too.
---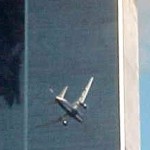 The meeting I went to was small – only four or five of us – and I think I was the only man.  I had never been there before, and I think it was in a small room of a Jewish day school on the Upper West Side.  I recall being the first person there and worrying that no one else would show up.  But they did, and we had a meeting.  I don't remember anything else about it.
I don't remember how I got home, which means it was probably my normal way: N to the 7 train.  I watched news at home for two or three hours, meaning – I watched Flight 175 crash into the South Tower more than a hundred times from multiple angles, as well as both Towers collapsing over and over again.  I finally stopped and went for a 6 mile jog around Sunnyside.  At one point I ran next to a pick-up street soccer game.  The guys were listening to the radio, and President Bush was talking live to the nation.  I slowed down and listened to a little as I ran by, but I didn't stop.
I had a very tough night.  Every time I shut my eyes, I saw Flight 175 slicing through the South Tower and the giant fireball it produced.  Around 2:00 or 3:00 a.m. in the morning (Sept 12), I started flipping out and called the Alcoholics Anonymous 'Intergroup' helpline.  New York City has over ten thousand AA meetings a week at all times, so I thought I could find an overnight one.  The person answering the phone told me meetings weren't really 24/7, and there wouldn't be any meetings until morning.  Do you think you can hang on until then? I did not sleep.
---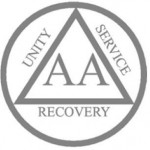 My AA 'home group' was called Citigroup, and it met in the basement of St. Peter's Lutheran Church under the northwest corner of the Citigroup Tower on East 53rd Street.  I went to 12:30 p.m. meetings during my lunch break, but there were also morning meetings, and there was one on Wednesday morning, September 12 at 7:30 a.m. I went there.
I was early – and very strung out from staying up all night.  A gracious visitor from L.A. listened to me blather for fifteen minutes before the meeting began.  Bless her soul; she was a real angel to me.  I've seen her a few times over the years at Citigroup, and I always thank her for the kindness and attention she showed me that morning.
I didn't have to go to work.  September 12 was actually the start of my planned two week vacation.  In fact, I was supposed to fly  on Sept. 12 from Newark International Airport to San Francisco International Airport, which was the same route as United Airlines Flight 93 that crashed in Shanksville, PA (although my flight was a different airline with a different departure time; but still).  With all U.S. air traffic grounded, I had a dilemma: stay home and waste vacation days, or go to work when my job was impossible to do at the moment.  I worked in PR, primarily booking authors as guests on morning radio shows.  Unless your client was a terrorism expert, you weren't booking nobody on nothin the next couple weeks.
So, I decided to go immediately to another meeting.  I was experiencing post traumatic stress disorder and was baffled that everyone else wasn't also.  There were young men and women on the subway in suits and skirts, and they were laughing and flirting and living.  How???
I remember more about the second AA meeting I went to.  It was at the Mustard Seed group on East 37th Street - a nice, quiet dimly lit, basement level space.  The meeting was 'round robin' style, where everyone sitting in a circle got to share one by one.  I remember what I said.  Previously, when I heard anyone say I'm a grateful alcoholic - or - I'm grateful to be an alcoholic I couldn't identify with that.  I thought Grateful to be an alcoholic – why??  I'm grateful to be a sober alcoholic in recovery, yeah.  But given the chance to not be an alcoholic in the first place – I'd much rather be that. But on September 12, AA meetings were the only place I felt safe.  Outside, I felt crippling anxiety.  I remember standing at intersection of 72nd Street, Broadway and Amsterdam Avenue and reflexively feeling I had to duck for cover.  I was afraid to hold my head up because with all the prewar buildings around me – I felt as though I was surrounded by targets, like each skyscraper was a magnet that would pull aircraft into it and create fireballs.  The only place I didn't feel this paranoia was inside an AA meeting.  And if I didn't have alcoholism and want to stay sober, then I couldn't be inside those rooms.  So, twisted logic it may have been, but 9/11 played a role in helping me honestly say I'm grateful to be an alcoholic.
---
Wednesdays were the day I volunteered doing food prep at God's Love We Deliver.  For the previous eight months, I had been spending my evenings chopping vegetables for hot, nutritious meals this wonderful organization delivers to people living with HIV and AIDS in New York City and Hudson County, New Jersey, who are unable to cook for themselves (since expanded to include people with other life-threatening illnesses).
With the way I was feeling, plus being in limbo between work and vacation, I needed my routines.  So, I headed to the kitchen on Sixth Avenue and Spring Street for my regular shift.  At Sixth Avenue and 14th Street, there were barricades preventing people from continuing south.  I explained to a policeman why I needed to go one more block south to GLWD, and he let me through.
Inside the GLWD kitchen, the feeling was electrifying.  People were chopping vegetables, packing food into disposable meal tins and stacking trays filled with meals onto carts – all with a silent urgency.  There was news piped in over the speakers.  It felt like we were fueling a war effort, everyone's actions were so efficient and precise, like we were palpably part of something larger than any of us.  We were feeding rescue workers at Ground Zero.
God's Love's vans were out on deliveries when the Towers were struck the day before.  With the bridges and tunnels to Manhatan closed, they could not return to base, and GLWD's clients could not be fed.  Yet the organization had an industrial sized kitchen – capable of producing 3,000 meals per day – and was located close to Ground Zero.  So, they had gotten permission to stay open and feed the workers looking for people alive and trapped under the destruction.
There was an announcement.  Workers had just found and rescued someone!  An eruption of joy and a release of the pressure felt in the kitchen – we had helped feed the people who just saved a person's life!  I will never forget that moment.  This was more than 24 hours after the attack, and workers had not found anyone alive for the last few hours.  I am proud I was there helping.  Being useful was theraputic and replaced my feelings of fear with power.
---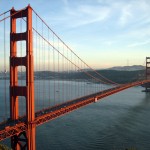 The moratorium on United States air travel was lifted on September 15.  I was on one of the first planes to fly again after 9/11.  There were only eight people on my flight – eight!  The next two weeks I was in San Francisco.  When I told people I was from New York, they would say Oh my God!  But you were here during September 11th, right? When I explained  No, I was actually there, they practically shook me for details about 9/11.
---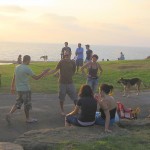 Bringing us back to ten years later, September 11, 2011, after I heard my brother's friend's name read six hours into the 9/11 Memorial Service, I finally disengaged from the computer and took my dog out to the park.  I live in Tel Aviv, Israel now.
I have two homes now – I am American, and I am Israeli.  Most days now, my identification wtih Israel predominates.  Even though I follow along w/ U.S. domestic news, as far as foreign policy and world events go, I'm much more concerned with issues like Egypt and Turkey's worsening ties with Israel, the Palestinian unilateral push for statehood at the UN, etc.  But as I reexperienced the events of 9/11, I forgot that I live in Israel; I was only American.  When I went outside, I was like, Oh yeah, this – I live in Israel now. It had completely vanished from my awareness the last few hours.
When I returned from being with my friends in the dog park, I watched videos of the attack for about 90 minutes on YouTube.  Just like ten years earlier, I watched the planes crash into the Towers from many different views, the towers collapsing and news anchors not comprehending it, this time I even sought out and watched videos of people jumping to their deaths from the burning buildings.  And later on that evening, it was hard to fall sleep again.  But this time, I did not have nightmares.