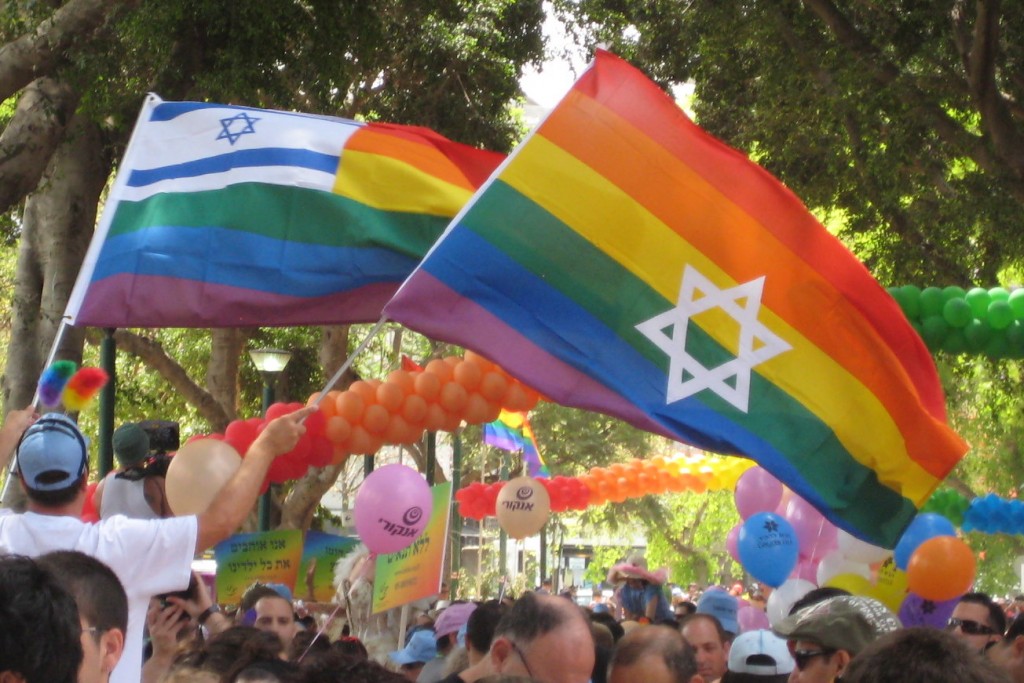 I feel a ton of pressure as I start this post.  I want it to be about the origins, dishonesty and impact of the term 'Pinkwashing,' and how the North American and EU LGBT communities are being exploited, deceived and manipulated to defame and demonize Israel by a small number of anti-Semitic activists, some of whom are queer.  But I also feel a responsibility to answer attacks against the Jewish people's legitimate connection to the land of Israel (as well as the land that will become the future state of Palestine).  And I have a rush of intense, personal experiences and feelings to share since taking a stand a few months ago and coming out as a gay, Jewish, pro-Israel activist.
The term 'Pinkwashing' was originally coined by breast-cancer activists, to "describe the activities of companies and groups that position themselves as leaders in the struggle to eradicate breast cancer while engaging in practices that may be contributing to rising rates of the disease."  Over the past decade, the term has been co-opted by queer anti-Israel organizations to smear Israel's "promotion of its progressive gay-rights record as a way to cover up ongoing human-rights abuses in the West Bank and Gaza."
When Barcelona, Philadelphia, and Rio de Janeiro promote themselves as gay tourism destinations, that's smart marketing.  Only when it involves Tel Aviv would anyone try to call it Pinkwashing.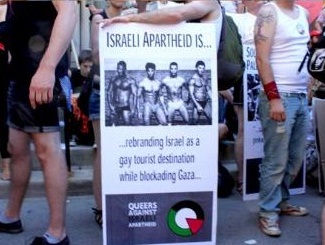 I do understand the difference between Tel Aviv and those other examples.  Only Israel has been militarily occupying another people for decades; Spain and Brasil are not occupiers, and the United States has 'only' been occupying Iraq for eight years and Afghanistan (with coalition help) for nine.
It's worth examining the conditions Palestinians live under in the occupied territories vs. some other Middle Eastern countries.  In Lebanon, Palestinians in refugee camps face armed soldiers at the gate if they try to leave. They are frozen out of public medical and social services. They are barred from dignified work in dozens of occupations such as engineering, medicine, law and journalism. They cannot own property. Their children are banned from regular schools.  In Egypt, Palestinians are denied citizenship and residency rights.
Contrast that with Beit Jala, a West Bank town just outside Bethlehem, where Muhammad Salem, a Palestinian engineer regularly meets with his Israeli engineer partner, Yanir Avital, collaborating on a project to manufacture and sell wind turbines together in both Israel and the Palestinian territories.  Or with Ramallah, also in the West Bank, where 35 software developer Palestinians working for joint Israeli-Palestinian web startup, G.ho.st, videoconference with the home office in the Israeli city Modi'in.  Or, the northern Israeli town of Nazareth, where Arabs (including gay Arabs) possess full citizenship, legal and language rights within Israel, and the first Arab-Israeli incubator, New Generation Technologies (NGT) houses 18 early- stage startups, mostly in biotech.  (Other examples of Arab-Israeli collaborations in high-tech and venture capital found here, here and here.)
Images of the West Bank and Gaza commonly shown by Western media do not usually include Gaza City's shopping mall (opened in 2010), its middle class and current building boom, or the West Bank's own five-star hotels and mansions owned by Palestinians.
This is not to say that Palestinians in the West Bank and Gaza do not also suffer restrictions, hardships and humiliations because of the Israeli occupation.  This is documented and real.
But does it justify the increasingly vehement accusations from fringe groups, laser-focused on the queer community, branding Israel the the world's lone pariah state?  Why is their outrage not also directed against the aforementioned Lebanese treatment of Palestinian refugees?  What about the total lack gay rights from many Arab regimes — such as Hamas in Gaza, the Palestinian Authority in the West Bank, Egypt, Jordan, Syria, Lebanon, Saudi Arabia and others?  Queers Against Israeli Apartheid states, "There is no pride in apartheid, and QuAIA is dedicated to fighting it wherever it exists" — even though it turns a blind eye to Lebanese-style apartheid or pan-Arab homophobia.  How can that be true, when – despite their claims – their only target is Israel?  Here's a roundup I put together of the other 18 countries in the Middle East and their treatment of LGBTs (*braces for incoming barrage of 'Pinkwasher!' claims*):
- PALESTINIAN TERRITORIES: homosexuality is brutally repressed by a wide array of actors in Palestinian society; gay men face torture and potentially lethal violence at the hands of PA security forces, members of their own families ("honor killings"), and armed militant groups.
- EGYPT: homosexuality is illegal, punishable by up to 10 years in prison. Beginning in 2001, the government began a public crackdown on Egyptian gay men by raiding private parties, arresting the guests and charging them with violating the "Public Order & Public Morals" code and engaging in prostitution and "violating the teachings of religion and propagating depraved ideas and moral depravity."
- IRAQ: in Baghdad a new series of murders began early in 2009, perpetrated against men suspected of being gay. Often they are raped, their genitals cut off, and their anuses sealed with glue. Their bodies are left at landfills or dumped in the streets. The nonprofit organization Human Rights Watch, which has documented many of these crimes, has spoken of a systematic campaign of violence involving hundreds of murders.
- TURKEY: morality-based laws are often applied in a discriminatory manner against LGBTs. Gay men, lesbians, and transgender people consistently undergo identity-based harassment and violence, coupled with police inaction in the face of their complaints. At least ten LGBTs were murdered in Turkey between November 2008 and April 2009 alone. Courts also deny LGBTs basic protections under the law.
- IRAN: homosexuality is a crime punishable by death. Human rights groups estimate that more than 4,000 LGBT people have been executed in Iran since the late 1970s. Gay men are treated far more harshly under the law than lesbians, and the government funds and encourages gay men to undergo sex change operations rather than disgrace the nation and risk an untimely death by transcending gender or sexual "norms."
- SYRIA: homosexuality is illegal, punishable by up to 3 years in jail. The government does not allow a LGBT rights movement to exist. In 2010 police conducted a series of raids on private LGBT parties and meeting places, and more than 25 men were arrested.
- SAUDI ARABIA: homosexuality is a crime punishable by death.
- SUDAN: homosexuality is a crime punishable by death.
- UNITED ARAB EMIRATES: homosexuality is a crime punishable by death.
- YEMEN: homosexuality is a crime punishable by death.
- BAHRAIN: consensual homosexuality between adults is legal since 1976. However, the legal system is influenced by traditional Islamic morality, which gives law enforcement agents and judges broad discretionary powers to issues fines, jail time and, for visitors, deportation for engaging in activities deemed to be immoral. The lack of clear definitions in describing something like "immorality" gives tremendous discretionary power to police and judges to do punish LGBT people for their sexual or gender identity. Queer bars can be shut down and owners fined or jailed for "assisting immorality." "Suspected" (effeminate) homosexuals are banned from entering Bahrain by checks at the airport. In 2009 the government blocked access to LGBT websites and two tourists were jailed and sentenced to hard labor for 6 months for soliciting an undercover policeman for sex.
- LEBANON: homosexuality is illegal, punishable by up to a year in prison. However, Lebanon stands out as a more tolerant space for homosexuality in the region. The Helem Foundation is a legal nonprofit organization for LGBT rights. In addition to that, Lebanon also has gay bars and nightclubs. In 2005, two popular gay clubs – Acid and X-OM – were raided without cause. No physical abuse was reported; verbal abuse was reported. In the Acid raid, men were detained for 3 days then released; no charges were filed.
- JORDAN: homosexuality is legal since 1951. There is no organized LGBT-rights movement in Jordan. There have been reports of bias motivated crimes, including murder, directed at LGBT Jordanians. Often these crimes are vigilante honor killings directed at a family member whose "illicit" sexuality is seen as bringing shame to the family. Periodic government crackdowns on homosexuals tends to focus on male cruising, public displays of affection and prostitution. In 2008, Saad Manasir, Governor of Amman, pledged to continue with the crackdown until, "we eradicate any trace of male homosexuals in the society."
- KUWAIT: homosexuality is illegal, punishable by up to 7 years in jail. Cross-dressing is illegal since 2007.
- QATAR: homosexuality is illegal, punishable by up to 5 years in jail. Since the 1990s, there have been several reports of this law being enforced against non-citizens, including subjecting them to lashes, jail time and deportation.
- OMAN: homosexuality is illegal, punishable by up to 3 years in jail.
- MOROCCO: homosexuality is illegal, punishable by up to 3 years in jail.
- ALGERIA:- homosexuality is illegal, punishable by up to 2 years in jail.
If groups like Queers Against Israeli Apartheid are really about working "to fight homophobia, transphobia and gender oppression wherever they exist," why are they not also directing their activism towards helping LGBTs in these other countries?  They are the real Pinkwashers, because they disregard the reality for queers throughout the Middle East, in order to pursue their anti-Israel agenda.
These groups are not really about fighting homophobia, transphobia and gender oppression.
The LGBT Pinkwashing phenomenon is the new anti-Semitism.
These groups say it is not enough anymore just to not support Israel.  You have to hate Israel now, or you are the enemy.  Being against Israel's government policies is not enough anymore.  You have to be against its legitimacy as a sovereign country with a right to exist, or you are an Apartheid sympathizer.  And,
The queer community has become the front line in establishing anti-Zionism as the new, global anti-Semitism.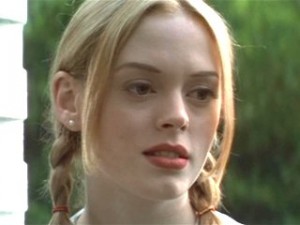 Their loud voices belie their small numbers.  They are very well organized and focusing like laser beams on the same targets, brainwashing the queer community in North America and the EU against Israel.  Because, like Rose McGowan's character, Tatum, in the first Scream movie so elegantly put it – "Well, you can only hear that 'Richard Gere / gerbil story' so many times before you have to start believing it." If they succeed in poisoning the LGBT community against Israel, these groups in all likelihood will next set their sites on the progressive community.
I would like to address one of the most deceitful claims many of these groups now make against Israel – that she is a 'colonial, settler' country, who 'stole' her land from the Palestinians.  In fact, overwhelming archaeological evidence supports the history that the Jewish people have lived in the land today called modern Israel (as well as the Palestinian terrorities) since at least the ninth century BCE.  (Other claims put Jews in Israel as early as the 13th century BCE.)  I purposefully avoided links to Jewish sources, to minimize the inevitable counter-claims that this information is false.  I did include one link to the Israeli Ministry of Foreign Affairs, because there is so much evidence in the form of links to archaeological digs, that I had to include it:
It was not until 600 AD that Muslim Arab armies moved north from Arabia to conquer most of the Middle East, including the geographic area of modern Israel and the future state of Palestine.  The Arabs never founded a nation-state in this area named Palestine; in fact, the name 'Palestine' does not refer to an indigenous Arab people.  The name came from the Romans, who conquered the area about 450 years earlier, in the second century AD.  The Roman name was adapted from the name 'Philistia,' which the Greeks used to refer to the coastal lands of the biblical Philistines, a people of Aegean origin who settled in the southern coastal plains of Canaan in the twelfth century BCE.
From the seventh to the sixteenth centuries AD, the area's history becomes very confusing.  Most of that time it was under Muslim rule, although there was nearly a century of Christian rule (First Crusade), and the Byzantine Empire also had control of northern Palestine for a while.  From the 16th to the 19th centuries AD, the area was part of the Ottoman Empire.  There were both Jews and Muslims in Palestine during this whole 1200 year period, but there never was an Arab nation-state in the area; there was only ever a Jewish nation-state (First Kingdom: 1020-586 BCE; Second Kingdom: 520-70 BCE).
Zionism, the national movement of the Jewish people seeking to recreate a Jewish state in Palestine, and return to the original homeland of the Jewish people, began in the 19th century in Europe.  During the First Aliyah (1881-1903), 25,000-35,000 European Jews immigrated to Israel.  During the Second Aliyah (1904-1914), 40,000 Russian & Polish Jews immigrated to Israel.
After World War I ended, Great Britain administered Palestine on behalf of the League of Nations between 1920 and 1948, a period referred to as the "British Mandate". Two states were established within the boundaries of the Mandate territory, Palestine and Transjordan.  On November 29, 1947, the United Nations General Assembly voted in favor of a plan to partition the territory into separate Jewish and Arab states. The Jews accepted the plan, and the Arab leaders rejected it.   War broke out, and some 700,000 Palestinians caught up in the turmoil fled or were driven from their homes.  Israel declared independence on May 14, 1948.  After the war, Israel captured 26% more of the Mandate territory (including West Jerusalem), Jordan took 21% more Mandate territory (the 'West Bank' and East Jerusalem), and Egypt took Gaza.  I think most of you know the rest: in 1967, when Egypt, Jordan and Syria were planning to attack Israel, Israel attacked preemptively and won.  That's how Israel came to occupy the West Bank and Gaza.
Enough history!  The only reason I went through about 50 billion pages of Wikipedia to condense 1,350 years of history into four paragraphs is to educate a lot of people that 'Palestine' does not refer to a historical people called 'Palestinians.'  It's a Roman term derived from the Greeks and resurrected by the British.  The term only ever referred to the geographic area, not a historical people.  Modern 'Palestinians' really refer to Arabs, or one could possibly call them Jordanians.
If the last paragraph offended you, I apologize.  My intention isn't to imply the Palestinians don't deserve a state comprised of the West Bank and Gaza.  I included the history to discredit claims that Jews have no connection to the disputed land.  As the links to independent sources show, there is a strong and documented Jewish connection.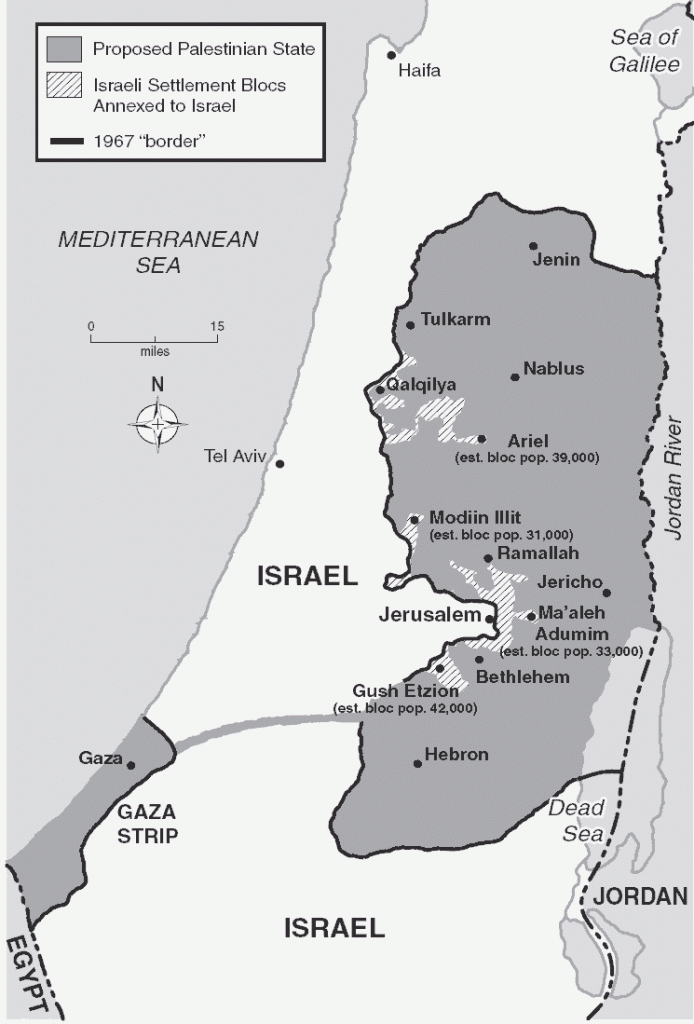 The Palestinains are going to have a state.  It needs to happen, and it's going to happen.  I can't speak for all Israelis, but as for me and everyone I talk to about this – we all want peace.  A lot of times when I post that in comments online, people answer back: "Bullshit! No, Israel does *not* want peace.  They want the status quo to go on forever.  They don't want Palestinians to have a state.  They want to annex the West Bank and Gaza." That's not true.  The Israelis I know are very sick & tired of the status quo.  Whether it's UN resolutions condemning us, organizations supporting BDS against us, Hamas firing rockets at us from Gaza and Lebanon, Palestinian suicide bombings inside Israel (Second Intifada: 2000-2004), all the Israelis I know would love to see it all finished.  Plus, our booming high-tech and tourism industries will be turbo-charged by peace.  Peace will great for both sides, and that's just obvious.
Americans can probably relate from the Iraq war:  U.S. soldiers dieing from roadside IED explosions, world opinion turning against the U.S. from its virtually unilateral invasion, being branded 'occupiers' by Iraqis after expending so much blood and treasure to depose Saddam Hussein's brutal regime – who needs it, right?  Let Iraq be the Iraqis' problem, and let's get the eff out of there! The Israelis I know have the same attitude towards the occupied territories: What the hell do we want to be responsible for these people's lives and problems for?  Let's remove ourselves and turn the whole situation over to them to manage.
It hasn't happened yet becuase of Israel's security concerns.  Many polls show the majority of the Palestinian population supports suicide bombings and terrorism against Israeli civillians.  According to one poll, "fewer than 2 in 10 Arabs, both Palestinian and all others, believe in Israel's right to exist as a nation with a Jewish majority."  Yet, a poll of Jewish Israelis shows 47% can accept the establishment of a peaceful Palestinian state next to Israel (using Obama's formula – West Bank at 1967 borders + mutually agreed upon land swaps), 27% can't accept it, and 30% are open to other opinions.  The same poll showed "62% of Jewish Israelis want their government to do more to promote a comprehensive peace."  Take your feelings about Netanyau out of the equation and just look a piece of text from his recent speech before a joint session of Congress in May 2011:
"I stood before my people and said that I will accept a Palestinian state; It's time for President Abbas to stand before his people and to say, 'I will accept a Jewish state.'  Those six words will change history. With those six words, the Israeli people will be prepared to make a far-reaching compromise."
I want to talk a bit about the catalyst for my newfound pro-Israel activism aimed at the North American and EU queer community.  I was shocked to learn (after the fact) from a friend that The Lesbian, Gay, Bisexual & Transgender Community Center in New York City agreed to let a group named Siege Busters rent space for an event raising funds for 2011′s Gaza Flotilla.  I used to spend a lot of time at The Center for New York City Gay Men's Chorus rehearsals among other reasons, and as I imagined myself walking past a fundraiser for an act designed to internationally isolate, embarrass, pressure and weaken the Jewish state of Israel, I felt threatened.  It was a 'does not compute' feeling for me, that a space created for the purpose of making people like me feel safe could abandon me so fully, by serving up hate.  My next thought was: Unacceptable.
I emailed and later spoke with The Center's executive director Glennda Testone.  I followed the whole story from Israel – with NYC Queers Against Israeli Apartheid being granted permission to meet at The Center in May 2011, then having that permission revoked, then organizing a sit-in to protest the decision in June.  The above image is from that sit-in, and it scares me.  I see hate.  I surmise my feelings are identical to the Jews of 1930′s Germany, who saw demonstrations against them.  This kind of speech – hate speech – isn't protected.
'Free Palestine' is code for KILL THE JEWS.
When people hate Israel, they are hating Jews.  I'll repeat my main takeaways from above:
The LGBT Pinkwashing phenomenon is the new anti-Semitism.

It's not enough anymore just to not support Israel.  You have to hate Israel now, or you are the enemy.

The queer community has become the front line in establishing anti-Zionism as the new, global anti-Semitism.
I decided I needed to take action to fight this hate.  One of the things I did was create a Facebook page called Queer Support For Israel.  I wanted there to be a place for queer (and queer-friendly) Israel supporters to be able to find each other, and I wanted there to be a growing, tangible metric of this support for the world to see.
In the process, I painted a large bullseye across my back.  While seaching for new content for the Facebook page (to keep it visible in peoples' newsfeeds), I came across this tweet about the Gay Girl from Demascus hoax.  The blogger's tumbler title is called "Not a Straight Man From Atlanta" and features a textbook hipster tagline, her twitter bio says said she was a "progressive Muslim," and her avitar has her shooting a rainbow from an uzi.  I failed to realize she was accusing a publication of Pinkwashing, and instead I thought she was knocking the hoax blogger.   I misjudged her completely and reached out to let her know about the Queer/Israel Facebook page, thinking she would want to *Like* it.
Huge mistake, except for the fact I don't believe in mistakes.  Very quickly blog posts started to appear about me.  This was a perfect storm, too, because these same people had already been attacking an LGBT news website GayMiddleEast.com for not covering Pinkwashing and Israel/BDS stories – and I volunteered for them in 2009 when I was considering a career as an Anglo on-camera news presenter in Israel.  Plus, I had freelanced for LGBT tourism campaign Tel Aviv Gay Vibe in 2010 and 2011.  Stir all these together, and I basically handed myself to them as Senior VP for Pinkwashing.
I live my life very publicly on the web, and it was initially disconcerting to see my past Foursquare checkins, blog posts, and tweets being repurposed to defame me, as well as being tweeted directly by these people.  I particularly didn't like this post, which includes a screenshot of a Facebook note I wrote for the Queer/Israel page.  That was creepy; was I going to feel these people over my shoulder as I wrote my next post for the page, and would my morning post become their evening headline?
What helped was realizing I was being bullied.  I use my real name, while most of these bloggers & tweeters attack me anonymously.  I am one person, and they are many.  And they're always going to get the last word.  This is bullying, and that's why it was mixing me up.  But I believe everything happens for a reason, and I'm able to see a lot of good coming from taking a public stand for what I believe in.
Anyone who's still not sure if Pinkwashing is about hating Jews, have a look at this tweet.
OK, there's certainly a lot in this blog post for everyone to have an opinion on.  Let 'er rip in the comments.
Tags
:
activism
,
anti-Semitism
,
Israel
,
LGBT
,
Pinkwashing
,
pro-Israel
,
queer