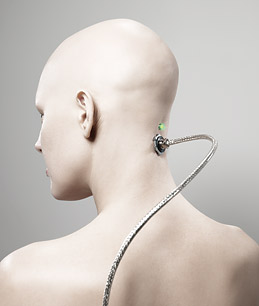 When last week's TIME arrived, I expected Egypt to be on the cover.  And it was – but not as the cover story.  TIME had some cockamamie a headline front & center stating – 2045: The Year Man Becomes Immortal – next to a Matrix-like image of a humanoid w/ a cable sticking out its neck.  (Really, TIME? I asked myself.  I know it's difficult to sell magazine copies in the age of Twitter links, and having the first in-depth story on a buzzy, non-mainstream topic could help differentiate TIME and drive sales, but a 'real life Matrix' story – really, TIME??)
But it was authored by one of my favorite contemporary writers, Lev Grossman, whose technology/culture profiles for TIME I usually enjoy.  So, I took it to the dogpark and read it straight away.
And promptly had my mind blown.  'The Singularity' is an event predicted to arrive within the next thirty-five years, where computers become so fast they give rise to consciousness.  "Shortly after, the human era will be ended," a source in the article says.  The story provides many reasons why this would be wonderful – for example, extending life indefinitely by rewriting the human genome, or cheating death instead by becoming cyborgs having our consciousnesses 'scanned' into computers and 'living forever as software.'  But it also mentions how "introducing a superior life-form into your own biosphere is a basic Darwinian error."  That's the part that scares me.  Even though there are newly formed organizations dedicated to ensuring 'Strong Artificial Intelligence' is friendly, and they are staffed with the best brains on the subject…if these new sentient computers are billions of times smarter than all of humanity put together, how can we possibly establish adequate safeguards that won't be out-maneuvered??  That seems like 180proof oxymorondom.
Somewhere deep inside (at the species level), I also have a wounded ego from the idea of humankind no longer being atop the food chain.  If there emerges a new race of superthinking computers doing all the really important work….how will our lives continue to matter?
Look, the poster boy for The Singularity, Ray Kurzweil, comes off as very sane and likable in the article.  I'm reassured by the fact that he feels nothing but excitement for The Singularity.  But those two points I cited above leave me a little nervous still.  It didn't help that IBM's 'question answering machine' Watson wiped the floor with Jeopardy! champ Ken Jennings a few days after I read the TIME story.
Anyway, it doesn't matter, because I'm now hooked on the subject.  It feels like we're hurtling to an inevitable, monumental change akin to the the apes in Kubrick's 2001: A Space Odyssey figuring out they could use those bones as weapons.  The Final Jeopardy! question is: What is: exciting?
Tags
:
A.I.
,
Jeopardy!
,
Lev Grossman
,
Ray Kurzweil
,
Singularity
,
TIME
,
Watson