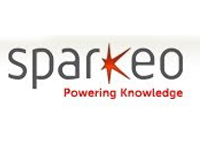 Sparkeo is a flexible, easy and rewarding platform that allows you to create video courses, video lectures and any other type of instructional videos.  With Sparkeo, you can create a thriving business while delivering a new learning experience to your viewers. The Sparkeo platform is intuitive and adaptable to your specific requirements, quick to learn and easy-to-use.
VISIT WEBSITE: www.sparkeo.com
Tags
:
Copywriting
,
High-tech
,
Sparkeo
,
Startup
Comments Closed
Related News (1 Post)
In July 2010, I was hired for my first copywriting project  a homepage redesign for Israeli startup, Sparkeo. Having more than fifteen years experience writing press releases and media pitches, I had not realized those skills were also applicable to this arena as well. Yet back in March 2010, I had already written more than twenty pages of original content for ORAM's website relaunch. Based on that work, I landed the Sparkeo project.
I helped Sparkeo draft three new slides for their homepage, a new mission statement and another homepage module featuring six bullet points. So far, the successful outcome has led to copywriting projects for two other clients, and *voilà!* my professional capabilities multiplied by a third.