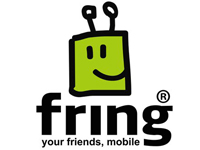 fring – the groundbreaking mobile communication service that gives users internet-rich communication from their mobile phones – was born out of a desire to fundamentally change the way people communicate on the go. fring members make FREE video calls, voice calls, live chat to other fringsters and to friends on other social networks.  fring leverages the mobile phone's internet connection to create these communication experiences and is available in more than 200 countries on all major Smartphones, on any mobile operator, and any mobile internet connection (3G/4G, Wi-Fi, GPRS, EDGE).
VISIT WEBSITE: www.fring.com
Tags
:
fring
,
High-tech
,
Mobile App
,
Public Relations
,
Startup
Comments Closed
Related News (2 Posts)
After generating CNBC coverage last year for mobile chat all-stars fring, we collaborated again on an exciting contest to give away a live video chat with soap star, Antonio Sabato, Jr.  The contest was promoted in a story in  Soap Opera Weekly's Oct. 11 issue and online via sister website Soap Opera Digest.  Entries are being processed on fring's website through October 17, and the contest is being promoted via social media from both Soap Opera Digest and fring.  Here's a video of Antonio using fring to video chat with his fans.  The contest winner can expect similar treatment from him.
In June 2010 I was hired to generate (American) national broadcast coverage for Israeli mobile communication startup fring. The timing of the project was just before Apple's World Wide Developer Conference (WWDC) 2010, where they would unveil the iPhone 4. One of the biggest rumors about the new iPhone in advance of its launch was that it would contain a second, front-facing camera  enabling two-way video calling (which turned out to be FaceTime).
fring had just become the first company to bring two-way video calling to Android devices. I was able to tie a pitch around fring's leadership in the mobile video calling space to anticipation of Apple's new device. The result was that CNBC's Street Signs lead story the day of Apple's WWDC announcement centered on Apple's competition in the video chat space, and coverage of fring anchored the piece. CNBC conducted an advance video interview with fring CEO Avi Shechter via the fring mobile app, which was included in the piece.